You've invested a lot of time and money in your landscaping. You've chosen plants and trees that work well for your property. Now is the time to ensure that the garden remains healthy, thrives, and stays looking great. By carefully selecting your methods of irrigation for a beautiful yard, you do precisely that.
Matched-Precipitation Sprinklers for Lawns and Groundcover
Treat your lawn to even irrigation. It prevents brown or wet spots where moss might grow. Landscape technicians work with you to space the sprinkler heads for best coverage. They'll also help you choose the right hardware. Options include rotators and nozzles.
We connect the sprinkler heads to a set of hidden pipes. Usually, we bury them in the ground at the time that you order a sod installation. By hooking up the system to automatic timers, you don't have to concern yourself with turning the sprinklers on and off. Moreover, you can increase or decrease watering based on seasonal needs.
Drip Systems for Flowerbeds and Vegetable Gardens
Some plants don't do well with a sudden dousing of water. A sprinkler head could cause damage to delicate plants in full bloom. In areas of the yard where you have these types of plants, a drip irrigation system can be a better solution.
You have a choice of various water delivery systems. There are small sprayers and drip emitters. Some of them allow water to trickle to the root systems of the plants. Others allow for a gentle spray. Our clients have had excellent success with drip lines that feature emitters near plant root systems. A light cover of attractive mulch hides the lines.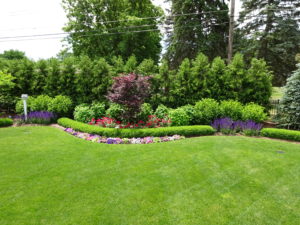 We recommend an automatic timer that measures the amount of water you release into the flowerbeds. Solar-powered systems make a lot of sense for people with flowerbeds in full sun areas of the yard. Just like the sprinkler system, you can make adjustments for seasons and changes in the landscape. For example, when you let your vegetable garden go dormant for the winter, there's no need to keep watering it consistently.
Find out More about Choosing the Right Methods of Irrigation for a Beautiful Yard
When we work with our Michigan clients on landscape irrigation, there are two major concerns: saving money and avoiding over-watering. Unplanned water runoff can create problems in your landscape. It can over-water some parts of the yard and cause root rot. We help you to avoid this issue by mapping out the best irrigation patterns. Also, by customizing your approach to watering, you can't help but save money.
Call the experts at United Lawnscape today to learn more about your options and to get started on your project.