Many of your perennials should be pruned back in the fall. You can trim your foliage down to just a few inches. You will want to clear away your trimmings to help prevent disease and rot in the spring. If you experienced disease in your perennials last spring, cut the foliage all the way down to the ground and do not compost it. Throw it away so as to stop the disease from spreading. It is very important to clean your pruners with a mixture of bleach and water after dealing with any diseased plants. Make sure they are dried very well and then apply cooking oil before storing them for winter to prevent rust.
Plants to be cut back in the fall:
Bearded iris
Bee balm (Monardo)
Phlox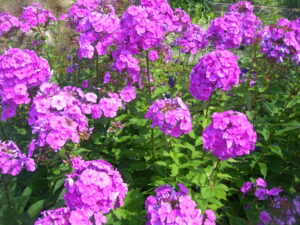 Lilies
Gaillardia (Blanket Flower)
Catmint (NepetaColumbine (Aqilegia)
Daylily (Hemerocallis)
Peony (Paeonia)
Salvia
Solomon 's Seal (Polygonatum Odoratum)
Yarrow (Achillea)
Hostas
Astilbe
Perennials to leave up through the winter:
Several common perennials can be left up through the winter for a variety of reasons, including protection, adding winter interest and assisting local wildlife. Plants to leave standing in winter and cut back in the spring include:
Annual wildflowers
If you planted annual wildflowers like Cosmos, Zinnias or Sunflowers, leaving them standing in winter helps them to drop their seeds and come back the next year. If you aren't happy leaving them stand, cut them back and leave the cuttings on the ground beneath. This should help them drop seeds for the next season.
Echinacea (coneflower) and Rudbeckia (Black Eyed Susan) should be left standing until spring to attract and feed birds through the winter.
Sedum and Ornamental Grasses should be left throughout the winter to add height and interest.
Butterfly Weed (Asclepius) , Ferns and Heuchera (Coral Bells) should be left until spring as the foliage helps to protect the crowns.
Hydrangea may be pruned in the late winter or the early spring or just after blooming has finished, depending on the variety. Hydrangeas that bloom on old growth 9like "Endless Summer") should be pruned immediately after they have finished flowering. Hydrangeas that bloom on the new growth (like the popular "Annabelle" and "Limelight") should be pruned in the late winter or early spring.
This is why it is always good to save plant tags or write down which varieties you have in your garden. Fall cleanup can sometimes be daunting, but with all of the right information at your fingertips, it can be done in just a few hours.